Student Handbook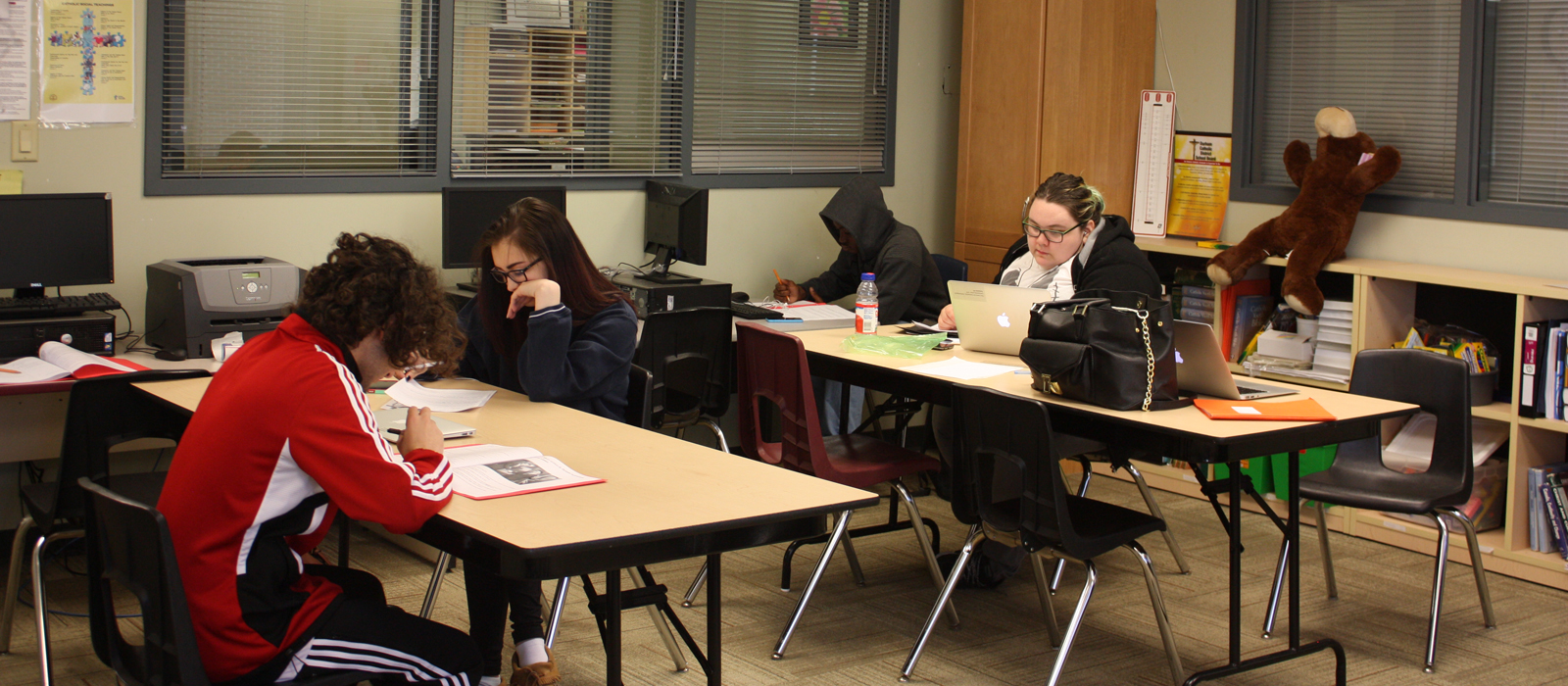 Father Don MacLellan Catholic Secondary School
458 Fairall Street, Unit 7
Ajax, ON L1S 1R6
Phone: 905-666-1146
Fax: 905-683-9436
Principal: Mr. D. Chambers

Board's Mission Statement
We are called to celebrate and nurture the God-given talents of each student as we serve with excellence in the light of Christ.
Visit dcdsb.ca for more information.
Father Donald MacLellan's Mission Statement
The Father Donald MacLellan Catholic Secondary School community, with compassion and mercy, strives to instill hope and empower our students as they maximize their potential to succeed.
Our History
Father Donald MacLellan Catholic Secondary School was named in honour of the late Rev. Donald MacLellan, C.Ss.R. Father Don, as he was known throughout the Durham Catholic District School Board, worked with schools in the DCDSB as a Retreat Leader before being named Chaplain of Monsignor John Pereyma Catholic Secondary School in 1992. He served as Chaplain there until his retirement in 1992, a period of time as he often described as the best 10 years of his life.
Father Don's passion for working with students who faced challenges, adversity and daily struggles was evident throughout his time at Msgr. Pereyma. His favourite saying was, "Be Not Afraid is written 365 times in the Bible - once for every day of the year." He helped students find their inner strength to face the world in which they lived, rather than allowing them to hide from it. He reminded them that they were never alone; that they always had God with them. He taught them that feeling fear was not wrong, but living in fear limited their ability to be the full human beings that God wanted them to be. He was a priest, counselor, teacher and friend. His belief in the value of Catholic Education in developing the whole person was evident in the way he welcomed and interacted with all students.
Father Don died on June 15, 2008. Father Donald MacLellan Catholic Secondary is a tribute to his time working with the many students who have been touched by him.
Program Available
The Durham Catholic District School Board is proud to provide a continuum of programs and services to students in the Durham Region. Course and support services available through Father Donald MacLellan Catholic Secondary School have been designed to meet the needs of those students who, for whatever reason, experience challenges achieving success in a traditional school setting. Each of the programs described below can lead to an Ontario Secondary School Diploma. Through the provision of alternate settings, smaller class sizes, opportunities for independent study, co-op placements, dual credits, as well as options for both part and full time programs, the staff at Father Don MacLellan Catholic Secondary School are able to tailor programs to meet individual learning needs. When combined with academic and non-academic support, these programs have helped many students in Durham to achieve success and graduate!


Reconnect Program (Learning to 18)
458 Fairall Street, Unit 7, Ajax, ON 905.666.1146, Ext 0
This program is for students 16 to 17 years of age who may be credit deficient and/or have or had attendance issues and/or may be experiencing difficulty completing their OSSD requirements in a traditional secondary school setting.
Program Description
Small, supportive class setting
Full and part-time programming includes teacher-led classes, credit recovery, experiential learning, independent learning
and Supervised Alternative Learning (SAL)
Restorative practice philosophy
Support from Child and Youth Counsellor and Social Worker to network with community agencies
Guidance support for post-secondary pathway
The Centre for Success - Durham College (DCDSB Students only)
A dual-credit alternative learning opportunity for students in their final year of high school, the Durham Catholic District School Board's Centre for Success is a unique program that allows students to complete their secondary school graduation requirements in an adult learning environment with support and encouragement from their teachers.
Students who are accepted to the program attend Durham College for one semester. During that time they will complete their high school graduation requirements and take a college course taught by a Durham College faculty member, and supported by a secondary teacher, which will also count as a high school credit If successful, two credits are recorded: one on the high school transcript and the second on the college transcript.
Students apply for this program through their home school. Please contact your home school Guidance Department for more information.
The Catholic Return Ticket Program (Long-Term Suspension/Expulsion Program)
This program is designed to provide academic and non-academic support for students of the Durham Catholic District School Board who have been expelled or who are on a long-term suspension.
If you have any questions, please contact Fr. Donald MacLellan C.S.S. at 905-666-1146.
Durham Catholic District School Board - Safe, Caring and Healthy Secondary Schools
The Durham Catholic District School Board recognizes that a school should be a place that promotes responsibility, respect, civility, and academic excellence in a safe learning and teaching environment. A positive school climate exists when all members of the school community feel safe, comfortable, and accepted. It is the responsibility of all members of the school community to work together to create a positive learning environment where all members feel supported.
Access to Premises
We are always pleased to have parents/guardians visit the school to discuss an issue with teachers or administrators. In keeping with the Board's Access to School Premises Policy, please remember that anyone coming into the school must first sign in at the office and obtain a Visitor's badge. All staff members will be wearing photo ID and will question anyone whose presence is not expected.
If a parent/guardian needs to pick up his/her son/daughter during the school day, this must be facilitated at the office. Members of the office staff will call the student down to the office to be signed out. If parents need to send a friend/relative/designate to pick up their child, please advise the school in advance and ask the designate to provide photo identification at the office. If the student returns to school before dismissal, he/she must sign back in at the office so his/her attendance can be monitored.
Attendance Matters
Did you know?
Students should miss no more than 9 days of school each year to stay engaged, successful and on track to
graduation. That means no more than 4 ½ days per semester.
Absences can be a sign that a student is losing interest in school, struggling with school work, dealing with a
bully or facing some other potentially serious difficulty.
Research shows that by Grade 9, regular and high attendance is a better predictor of graduation rates
than Grade 8 test scores.
Missing 10 percent of a school year (or about 19 days), can drastically affect a student's academic success.
Students can be chronically absent even if they only miss a day or two every few weeks.
Good attendance is an important life skill that will help your child graduate from college or university and
keep a job.
Make School Attendance a Priority
Talk about the importance of showing up to school every day, make that the expectation in your family.
Help your child maintain daily routines, such as finishing homework and getting a good night's sleep.
Try not to schedule dental and medical appointments during the school day.
Don't let your child stay home unless truly sick. Complaints of headaches or stomach aches may be signs of
anxiety.
Talk to your physician or ask someone at the school (guidance counsellor, principal or vice principal, school
social worker or child and youth counsellor) where to go for help.
Help Your Teen Stay Engaged
Find out if your child feels engaged by his/her classes and feels safe from bullies and other threats. Report
any concerns to the teacher or principal or vice principal.
Stay on top of academic progress and seek help from teachers or tutors if necessary. Make sure teachers
know how to contact you.
Stay on top of your youth's social contacts. Peer pressure can lead to skipping school, while students without
many friends can feel isolated.
Encourage meaningful after school activities, including sports and clubs.
Communicate With the School
Talk to teachers if you notice sudden changes in behavior. These could be tied to something going on at
school.
Check on your child's attendance to be sure absences are not piling up.
Ask for help from school officials, afterschool programs, other parents or community agencies if you're having
trouble getting your child to school.
Safe Arrival - Automated Attendance System
The Durham Catholic District School Board uses an automated attendance system called Safe Arrival to report a student absence. Safe Arrival makes it easy for you to report your child's absence, it allows staff to quickly verify student attendance which in turn allows staff to respond to unexplained student absences.
1. Parents can log into a website: go.schoolmessenger.ca to report student absences.
2. Parents can call into the automated interactive telephone system using the toll free number
1-844-288-7628 through which absences can be reported.
3. Parents can download the SafeArrival app for iOS and Android smartphones. Search for the keyword
school messenger in the Google Play store or the Apple App store. Select Canada, select sign up, enter your
email address that is on file with the school, enter a password.
All three methods are available 24 hours a day, 7 days a week. Future absences, like doctor's appointments can be reported ahead of time. For more information, please visit the school website.
Restorative Schools
We believe that safety begins with positive connections between the students, staff and parents. To foster these relationships, staff in the Durham Catholic District School Board use restorative practices, including classroom circles and small group conferences to build community within the classroom and the school. Restorative Practice is rooted in the same philosophical approach as Canada's Native Aboriginal communities. It rests on the belief that it is best to do things with people, rather than to them. When conflict arises, using restorative practice engages students in a fair process that responds to behavior in ways that strengthen and repair the relationship. It is collaborative rather than adversarial in nature. The aim of restorative practice is to hold individuals accountable for their actions while restoring and repairing any relationships amongst each other and within the community that may have been harmed.
Catholic Restorative Schools will:
Provide opportunities for someone who has done harm to determine the effect of his/her actions and make
reparations
Provide a voice for the victim
Use a common set of restorative questions both in and out of our classrooms to give the victim a voice and
enable the perpetrator to determine the effect of his/her actions. "How do you think your actions had an
impact on others?" "What do you think you need to do to make things right?"
Use circles, or small group conferences to build community, develop empathy and understanding, and when
needed, to repair relationships
Celebrate our Catholic community through the Catholic virtues and Catholic Graduate Expectations
Use think papers and reflective discussion papers aligned with the restorative questions
School Code of Conduct
Visit our Code of Conduct web page for information.
Durham Catholic District School Board Concussion Policy
All school boards in the Province of Ontario are required by law to have a Concussion policy and school board administrative procedures in place so that students, school staff and parents/guardians understand their role in preventing, managing and reporting suspected or diagnosed concussions.
A concussion is the term for a clinical diagnosis that is made by a medical doctor or a nurse practitioner. The definition of concussion below is adapted from the definition provided in the concussion protocol in the Ontario Physical Education Safety Guidelines.
A concussion:
is a brain injury that causes changes in the way in which the brain functions and that can lead to symptoms
that can be physical (e.g., headache, dizziness), cognitive (e.g., difficulty in concentrating or remembering),
emotional/behavioural (e.g., depression, irritability), and/or related to sleep (e.g., drowsiness, difficulty in
falling asleep);
may be caused either by a direct blow to the head, face, or neck or by a blow to the body that transmits a
force to the head that causes the brain to move rapidly within the skull;
can occur even if there has been no loss of consciousness (in fact most concussions occur without a loss of consciousness);
cannot normally be seen by means of medical imaging tests, such as X-rays, standard computed tomography
(CT) scans, or magnetic resonance imaging (MRI) scans.
A specific concussion protocol and tool now exists in all Durham Catholic District School Board schools that includes responsibilities for Board and school staff, students and parents/guardians. Additionally, health units and sports and fitness organizations in Durham are using this protocol to raise awareness to help prevent and manage concussions.
It is important to note that all suspected concussions must be reported and a medical doctor or nurse practitioner make a diagnosis and participate in the Return To Learn and/or Physical Activity documentation process.
The concussion tool noted in this student agenda is a resource for school staff, parents/guardians and students. Parents/guardians and students are encouraged to contact your school principal for more details about the new concussion management and prevention safety protocols that exist to promote student safety and success.
Father Donald MacLellan CSS Expectations
The staff and students of Father Donald MacLellan Catholic Secondary School all work to create a learning environment that is safe, caring, and supportive of the learning styles and strengths of each student. The following is a brief summary highlighting some of the expectations of students:


Religious Education
The spiritual dimension of our Catholic Secondary School Community shall be respected at all times. By choosing to attend Father Donald MacLellan Catholic Secondary School, students are accepting that we are a Catholic Learning Community, with the knowledge that we are guided in all we do by the Catholic Graduation Expectations. All students intending to participate in Graduation exercises are expected to have completed 40 hours of community service on or before June 1st of their graduating year.
Students are expected to participate in and respect the religious life of the school. Students must:
Attend all school liturgies and participate reverently in the celebrations.
Participate respectively and respectfully in offering prayers in class.
Respect religious symbols throughout the school.
Demonstrate a positive attitude toward religion and faith which make up a part of each student's life.
Demonstrate a caring, respectful attitude toward fellow students, staff and community members.
Absenteeism
Patterns of excessive absenteeism may result in loss of credit. Irregular, unauthorized absence and late for school may result in suspension, with a review of the student's academic program in the school.
Classroom/Hallway/Common Area Behaviour
Students are expected to respect the nature of the classroom, hallway and common areas. They are expected to clean up after themselves and not interrupt classes that are in progress. The dress code of the site is in effect at all times throughout the day.
Lockers (Centre for Success ONLY) and Personal Property
Students are encouraged to leave valuables at home. The school is not responsible for lost or stolen items. It students choose to bring valuables to school, they should be kept on their person, and not left in common areas or classrooms
CFS Students: Your locker is assigned to you for your convenience, but it remains the property of Durham College. Writing on or inside lockers is not acceptable, and suggestive slogans or pictures posted inside are serious offences and will be treated as such. Your locker must be in the same condition at the end of the year as it was on the opening day of the semester. Your locker is for your use only - do not give anyone else your combination. Only school-issued locks may be used.
Dress Code
While there is no uniform at most sites (the Catholic Return Ticket Program does have a uniform), each site has specific dress code expectations, and will be outlined at the intake meetings. Students who do not respect the dress code will be asked to change, or may be asked to leave.
At sites that do not have a uniform, and on non-uniform days at CRT, the following applies at all times, and in keeping with the values of self-respect and respect for others, students must wear clothes that do not display scenes or words of violence, sex, alcohol, drugs, or with racist overtones. In addition, clothing worn must be appropriate for the school environment; for example, the following items are not acceptable:
short shorts, spandex shorts or excessively short skirts
spaghetti strap tops/dresses/tank tops and muscle shirts
pants worn below the waist
inappropriate symbols, slogans or sayings on any clothing
Parking
Please confirm with the teachers at the individual site. Please note that the school is not responsible for any damage to a vehicle.
Transportation
Bus passes are provided to full time students who attend the program on a regular basis. Tickets are provided to part time students and also to students who have had their bus pass privilege revoked due to absenteeism. Only one bus pass will be provided per month.
Students at the Centre for Success receive a bus pass as part of their Durham College Student Identification Card. This card is property of the College, and must be returned should the student withdraw or be removed from the program.
Substance Abuse Policy
The Durham Catholic District School Board has established a "Substance Abuse" Policy consistent with the Government of Ontario directives in this area. The possession or use of tobacco, smokeless tobacco, alcohol, or any other illegal drug is prohibited by students on school premises or during school activities.
Students in contravention of this policy will be subject to disciplinary action, which may include suspension from school or expulsion from all schools of the Board.
Smoke Free Ontario Act, 2016
The Smoke Free Ontario Act is a provincial law that prohibits any person from smoking or holding lit tobacco on school property at any time. Furthermore, anyone who gives cigarettes to a person under the age of 19, either on or off school property, is breaking the law and subject to a fine. This law applies to all tobacco products, including e-cigarettes and smokeless chewing tobacco.
Students will be subject to charges and fines by the Durham Regional Health Department/Tobacco Enforcement Officer. Students 16 or older may be charged and given a minimum $305 ticket or issued a summons to appear in court. For students under the age of 16, the student, accompanied by a parent/guardian, must attend and answer to the charge in Provincial Offences Court on predetermined date(s); and a fine of up to $300 for a first offence may be issued. Students will be suspended for smoking on school property including e-cigarettes.
Gambling
Students are not permitted to participate in gambling activities on school property i.e. dice/poker. Please do not bring dice/chips to school. Students engaged in such behaviour will be dealt with severely.
Electronic Equipment
Personal electronic entertainment or communication devices such as radios, portable stereos, cell phones, ear phones, electronics, CD/ DVD players, I-pods etc. are not to be used in the class or halls without teacher permission. The school is not responsible for lost or stolen items.
Laser Pointers
The U.S. Food and Drug Administration have stated that laser pointers may be harmful to the retina of the eye. Laser pointers are not allowed on school property and will be confiscated. Students using laser pointers will be suspended from school.
Skateboards/Roller blades
Skateboarding/rollerblading are not permitted on school property.
Visitors
Students may not have friends visit them during school hours. If a visitor must come to the school for some reason, then he or she must report directly to the office.
Police Liaison
At Father Donald MacLellan CSS, we are fortunate to have an excellent partnership with the Durham Regional Police Department. A Community Police Officer has been assigned to Father Don in conjunction with the other Oshawa secondary schools. The function of this officer is to provide support to school and community officials with regard to legal and safety issues.
Student Crime Stoppers
A student who wishes to anonymously report information about a crime in the school may call the Durham Regional Crime Stoppers community telephone hotline 1-800-222-8477 (TIPS). This line is answered 24 hours a day, seven days a week. Crime Stoppers does not use call display. You never have to give your name. You never have to meet police, go to court or be hassled in any way. Callers may be eligible for a cash reward. Do the right thing, call Crime Stoppers and put a stop to crime in your school. It's your school - it's your call.
Student Supports and Program Support
If, at any time, you are in need of academic or moral support, the program support teacher and educational assistant are available to assist you . The department offers long-term programs to many students but it also offers the following services to individual students on a short-term basis: academic assessment, remedial activities, reading and writing improvement, enrichment opportunities, and strategies for academic success.
Guidance
Guidance Counsellors are teachers who assist students in acquiring the knowledge, skills and attitudes to:
Design a personalized educational plan
Demonstrate effective personal and social skills
Develop a framework for realistic life and career planning in a constantly changing world.


The following supports are available for all students:
Access to the Internet as well as other support software, interest inventories
Child and Youth Worker/Social Worker
Every site has the services of a Social Worker and/or a Child and Youth Counselor to assist students and/or families in identifying and managing the barriers that are/have been negatively affecting the student's ability to benefit from the educational process.
40 Hours of Community Involvement
"As part of the diploma requirements, students must complete a minimum of 40 hours of community involvement activities. These activities may be completed at any time during their years in the secondary school program. The community involvement requirement is designed to encourage students to develop awareness and understanding of civic responsibility and of the role they can play in supporting and strengthening their communities."
Ontario Secondary Schools students in Grades 9 to 12 mus complete the following key elements as provided by the Ministry of Education:
Must be completed outside scheduled class time
Must not be part of a credit course
Must be unpaid activities
Must not be for work done for wages by another person
Must be completed by the end of Grade 12
Must not be for a workplace for commercial business
All community involvement activities must be approved by a guidance counsellor before your begin the activity or the hours will not be approved.
Post-Secondary Requirements
Educational planning is vital; thus it is never too early for students to begin their research into post- secondary destinations. It is the responsibility of all students to be fully aware of program requirements at post- secondary institutions. Students are encouraged to check specific University and College Admission Calendars to determine course requirements, cut off grades, scholarship and award programs, as well as any additional admission criteria such as interviews, auditions, portfolios. Other post- secondary destinations also have specific requirements which must be met.
Academic Honesty
It is essential that students demonstrate academic honesty in all aspects of school work. That means that when you gather information and ideas for a project, essay or other assignment, you must cite each source you use. This can include statistics, charts, images, quotes, paraphrasing and music, film and other media. By citing you show that you are honest and accountable for your own work. It is important that you consult with your teacher regarding proper formatting of your work and proper documentation of all research.
Plagiarism
If you do not give credit to the person who creates a work or expresses an idea, you are suggesting that the words or ideas are your own. That is plagiarism and it is cheating. Examples of plagiarism include, but are not limited to, submitting a piece of writing such as an essay or an oral presentation which has been created by someone else, copying a short passage without crediting the author, and paraphrasing another person's ideas without acknowledging the author. Plagiarism is a serious offence and may result in a mark of zero.
Paraphrasing is representing the author's thoughts and ideas in your own words.
This also constitutes plagiarism unless the author is acknowledged. When paraphrasing you must introduce the material (i.e....according to Smith...) so that the reader knows where the cited information begins. Do not use quotation marks. End the paraphrased section with an in-text citation.
Sometimes you will include in your writings information that is understood to be common knowledge (for example, the fact that World War II ended in 1945). In this case, you do not need to cite a source. However, what is held to be common knowledge in your Religious Studies class may not be common knowledge in History or English; there may even be discrepancies between different courses within a given discipline. Use your classroom experience as a guide. If a piece of information would be understood without a reference in a classroom discussion, consider it common knowledge. If in doubt, cite your source.
Agenda Review Sign Off
By signing below you are indicating that you have reviewed the information contained in the student agenda and that you agree to abide by them. For further information, the related Board policies are available on the Board's website and in the school office
School Code of Conduct (PO 431)
Fair Notice of Community Threat Assessment and Intervention Protocol
Acceptable Use of Information and Communication Technology Policy (PO431)
Concussion Policy (PO614)
Student Signature:_____________________________________________
Date:________________________________________________________
If student is younger than 18 years of age: I have discussed the information contained in this handbook with my child.
Parent/Guardian's Full Name (Please Print):_______________________________________
Parent/Guardian's Signature:_____________________________________
Date:________________________________________________________